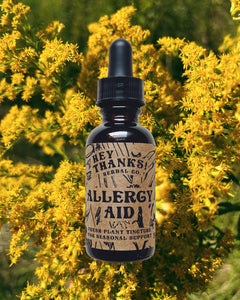 I have been trying to find an alternative to over-the-counter allergy medication, as I didn't like the side effects I was experiencing. This tincture has helped reduce my allergy symptoms when I take it in advance of going outside.
The only thing that works for me!
This stuff is magic. I wake up with allergies most months out of the year this is the only thing that works for me! I'm so grateful to Hey Thanks for offering this.❤️
Allergy Aid - All Day Relief!
As someone who has "seasonal allergies" all year round, it happens often where my body grows immune to the OTC allergy meds so I was looking for something more holistic and effective. This tincture has been such a relief to take and has really kept my sniffles at bay and it's only been 2ish weeks!