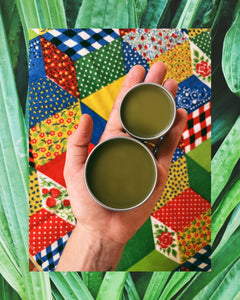 This salve is a staple! Works great on dry, cracked/cut winter hands. It also heals my cat scratches and other cuts and scrapes quickly. Great combo of powerful herbs!
Great for EVERYTHING
I've used this on plenty of cuts and scrapes from gardening over the spring/summer, but recently I underwent surgery to repair my shoulder. Since the stitches and tape have come off, I've started using this salve on my incision scars. Two of them are larger and more apparent then the others, and the combination of salve and massaging the scars has resulted in them being less visible and healing quicker.
I highly recommend this product!
This Product is a Dream!
I've been dealing with some stress-induced rashes on my jawline, neck and chest. During the last rash flare up, I used this product and within three days, the rash on my chest had stopped itching and had virtually disappeared.
Saved me
I struggled with scab picking from self inflicted wounds for many years. This helped heal my skin heal fast enough that I have reduced my horrible habit down 90%. From the bottom of my heart! Thank You!
Never knew I always needed
I had surgery 16 months ago and kept waiting for my scar to heal on its own. When I asked a friend what I should use "heal all" was her suggestion. 8 days in and the purple/red/white scar is fading both in size and color. Thanks for the help, healing from the outside in and the inside out.
---