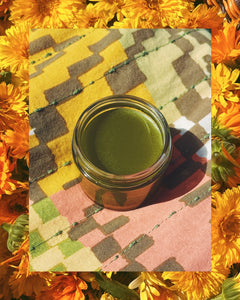 Sensitive skin rejoice!
Works really well for my dry and sensitive skin. Keeps hands moist even after washing thoroughly with oil-stripping, cheap soap at work and is gentle enough to care for lips and piercings (the latter of which can get kind of nasty. This is so good for that!) Scent is lovely, too, but not overpowering. Will definitely be ordering again!
This stuff is awesome!
I have ordered this product many times and it is always great. Me and my partner love it!
The best salve I have ever used
This is without a doubt my favorite moisturizer/salve/ointment. Nothing soothes my hands better. This also helps heal the candida rash I get around my nose and mouth when the seasons change. In fact, my face seems to love super rich & emollient moisturizers so I use this most nights as part of my face care routine. I bought the big jar for myself & husband and the minis for my mom, sisters-in-law.
Best!
I love this product. I use it for basically anything and everything!
Works!
I've tried it all and this is the only thing that truly hydrates but also heals my cracked hands. A little goes a long way. Thank you thank you Katelyn!
---