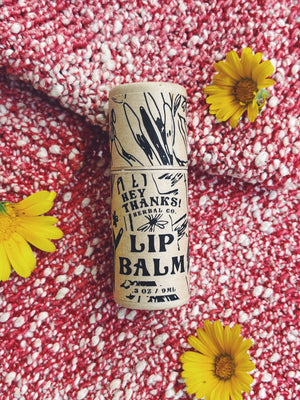 The only balm I will ever buy
I cannot say enough good things about this balm. I have around 10 floating around in my life and I don't go anywhere without it. It is so smooth, moisturizing, and protecting. Scentless and colorless, in cardboard tubing which I LOVE. It also doubles as an all over balm in a pinch, or a highlighter for dewy skin (not shimmery, just gives a beautiful glow). I will never buy another balm from anyone again. WHOOOO
Best lip balm
Absolutely worth the money. The balm itself is really rich and moisturizing. I'm so impressed that this is all home-grown and handmade. I bought one for a family member as well.
I'm allergic to ingredients in most chapsticks and I've finally found a natural alternative! I love the large tube and moisturizing ingredients.
Only the best!!!!
As a person with chronically dry lips, I have tried almost every Chapstick on the market, and this one takes the cake. It is so thick and moisturizing that I don't have to apply it all the time. I use it on my hands and phase 2 in the winter. I cannot get enough of this stuff, and they last quite some time as well. I freak out when i cant find my stash!!
I LOVE this lip balm
So smooth and also has a great paper holder
---